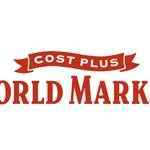 Cost Plus World Market is Set To Join Burbank Town Center!
Cost Plus World Market is set to open this fall at the Burbank Town Center Mall. A Bed Bath & Beyond concept, Cost Plus, has over 259 stores nationwide. The 17,060 square foot store will be located next to Bed Bath & Beyond on the lower level and will be part of a new-look mall being renovated by Arrow Retail. The redevelopment will include new retail shops and multi-family residential adjacent to the completely remodeled 1.2 million square foot retail center.
The transaction was completed by Cypress Retail Group's Robert Walsh representing the Tenant. Visit our Twitter page @CypressRetail for more updates.