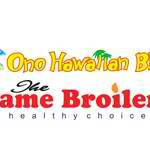 Ono Hawaiian BBQ and The Flame Broiler coming soon to Bakersfield!
Ono Hawaiian BBQ and Flame Broiler have executed leases in the new Smart & Final anchored Mt. Vernon Development in Bakersfield. Both restaurants will join Chipotle in a free-standing QSR pad at the south end of the project.
These deals were completed by Bob Haas and Matt Haas of Cypress Retail Group who represented the Landlord in these transactions. Check back for more updates at cypress.net or on Twitter @CypressRetail!