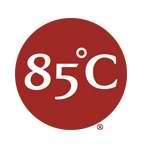 85C Bakery is Coming Soon To Valencia!
Joining the River Oaks Shopping Center at the NEC of Magic Mountain Pkwy and McBean Pkwy is 85C Bakery. 85 Degrees is set to occupy approximately 2,000 SF of space at the River Oaks Shopping Center. This neighborhood center is anchored by Target, Sprouts, Total Woman Gym & Spa, buybuy Baby, Ulta, Pier 1 Imports, European Wax Center, Verizon, Pizza Rev, GNC, Great Clips, Hook Burger, Presto Pasta, America's Best Contact's & Eyeglasses, and Nekter. Located at one of the most heavily trafficked intersections in the Santa Clarita Valley, 85C Bakery is set to open the 4th quarter of 2017!
This deal was completed by Robert Walsh and Ilona Uribe of Cypress Retail Group who represented the Landlord in this transaction. Check back for more updates at cypress.net or on Twitter @CypressRetail!