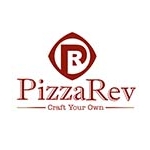 Chain Store Age – PizzaRev, Revving its Engines
PizzaRev opened a concept test kitchen in Los Angeles in April 2012. Today, it has nine company-owned restaurants with 19 more company and franchised stores on the way.
"This isn't just about our growth, but also growth in the fast casual pizza space," said Irv Zuckerman, co-CEO of PizzaRev. In fact, the fast casual pizza space is much bigger than it was two years ago when PizzaRev opened its first concept. New concepts from well-known brands, such as Chipotle's Pizzeria Locale, have opened up within the last year.
PizzaRev has positioned itself to grow with a number of franchise partners. "We continue to seek multi-unit franchise partners who have the passion to help build our brand and collectively make us the best fast casual restaurant in the industry," Zuckerman said.
To read the entire Chain Store Age article, follow the link:
http://www.chainstoreage.com/article/revving-its-engines