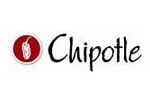 Chipotle Mexican Grill Continues Strong Growth with Several Store Openings in the Los Angeles Area
Chipotle, the nation's leader in gourmet quick serve Mexican food, "food with integrity," loyal following is increasing prompting strong expansion plans and store openings. Recently, Cypress represented Chipotle on leases that were signed for locations in Santa Clarita, Newbury Park and Northridge which recently opened. It only takes one visit for hungry patrons to become hooked on Chipotle's fare. The company often receives requests from loyal followers asking them to consider locations in their neighborhoods.
Store Dimensions: A typical restaurant location is approximately 2,200 sq. ft or a minimum of 1,000 sq. ft. considered in high profile locations.
For more information:
North Los Angeles, San Fernando Valley, Ventura and Santa Barbara County(s):