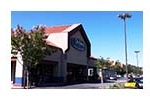 Former OSH in Santa Clarita now Available for Lease!
The 46,038 square feet, former OSH retail site in Bouquet Canyon Plaza is now available for lease! This exciting opportunity is located at Bouquet Canyon Rd and Newhall Ranch Rd where Santa Clarita sees some of its highest traffic counts (Approx. 91,000 ADT at the intersection). Co-tenants include Trader Joe's, Best Buy, and Office Max, while area tenants include Lowe's, Vons, CVS, and In-N-Out Burger. Within a 5-mile radius the average population is over 201,000, and the average household income is just over $101,000. The landlords are willing to divide the space if necessary.
Bob Haas of Cypress Retail Group is handling this listing.